PART IV: NEW HORIZONS
After departing Cheer-Accident I worked for a time with Tim Stevens and Vito Greco of Table in a project comprised of Table classics, a few new tunes and a healthy dose of improvisation. Augmented by Chad Organ of The Flying Luttenbachers, the quartet parted ways in the mid-nineties.
In 1995, at the invite of Scot Ashley, I joined Joe and Renee Zanona's Libertines (not to be confused with the 'known' band of the same name), which also featured Off Broadway drummer Kenny Harck. The band dissolved after one sparsely attended gig that had the misfortune of occurring during a freak off-season snow storm.
About this same time, with loads of free studio time and a more than generous supply of salsa and chips, I finally embarked on my first post-Cheer solo project. Combining unused ideas culled from previous bands – as well as fresh material – Pox was intended to be a lean, quickly produced release with live aspirations. In the end it was none of these, instead utilizing dozens of overdubs, endless delays and no live band in sight. The resultant album, Fin was eventually completed in 1998.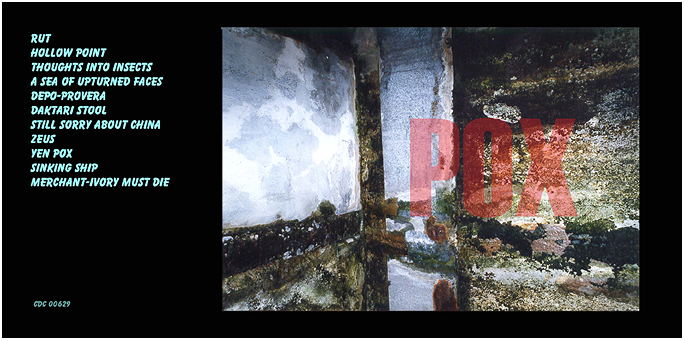 Sadly, the CD was hampered by over-compression and an under-whelming pressing – yet it succeeded in developing a blueprint for what was to come – and reconnected me with two very important collaborators, Jim Widlowski and Thymme Jones.
Playing most of the non-percussive parts myself, I enlisted the vocal skills of Doug Ackman (who also provided additional lyrics and melodies) along with drummers Brad Schlueter and Jim Widlowski. Scot makes a return appearance providing some deranged solo work, and nearing completion, I had even recruited Thymme for some additional vocal and creative input – and soon found my 'solo' project resembling more of a Cheer collaboration seemingly picking up from where we had left off six years earlier.
Although less than thrilled with the pressing, in the end I was happy with the outcome but I vowed the next one would not take the nearly four years it had taken to produce Fin. And in the end it didn't. It took ten! Initially intended to be released as two EP's in full color gatefold sleeves, the project quickly developed a life of its own – sometimes rushing ahead at a blistering pace – at other times laying dormant for years.
Ironically, one of the first tracks completed was one of the least probable – the album opener "Hamfist", featuring 5uu's Dave Kerman on drums and percussion. Ironic since Dave lived in Colorado at the time and I lived in Illinois. A crude 'file swap' ensued, sending bulky ADAT tapes through the US Postal service – and establishing a system of file sharing that would be achieved with a few clicks of a mouse just a mere decade later. However, at the time, this was pretty high tech! A new age of recording and collaboration had begun…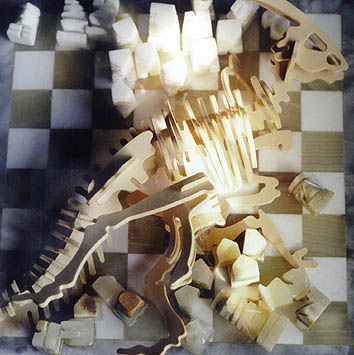 One of the primary differences on Borgnine – as it was soon to be known – was handing over the majority of the guitar playing duties to Scot Ashley who had only played only briefly on Fin. This enabled us to work extensively on the sounds themselves and (theoretically) freed me up to push ahead with the overall production. (Did I mention the ten year part?) There was also little doubt that the second album was in large part a joint effort between Thymme and myself – Thymme now contributing drums, keys, trumpet and other bits, as well as vocals and composition. There were also other notable contributions by assorted Cheer-Accident alumni, including vocalist Laura Boton, trombonist Mike Hagedorn and Doug Abram on baritone sax (completing the unlikely, but highly-effective brass section on "Wrong"). After a decade of production, Borgnine had finally made its long anticipated debut in the Fall of 2010.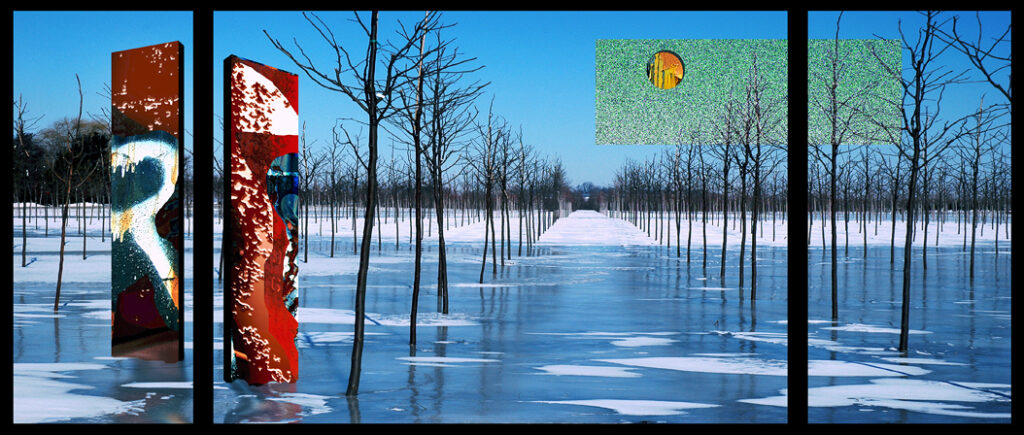 (Later that year Jim and I also recorded "Have Yourself A Secular Christmas" – a 30-second homage to crass holiday commercialization that was featured on WXRT's annual Local Anesthetic Christmas show. Other XRT holiday segments followed in the years to come, featuring both Jim, Doug and Brad, and are now collected on my free bandcamp EP poXmas.)
2011 marked the official commencement of sessions for So Sorry About North America – the third release under the Pox name. By 2015, several songs were in varying stages of completion, including "Axiom Of Lies", "Subcontinental", "My Anesthesia", "Kurosawa Rain", "Transistor", "The Forest Inside The Forest" and "God/Child". At some point, I apparently decided it was all too easy and decided, "'why not make it a concept album as well?" And while I was more than pleased with how it eventually all came out, I'm not sure I would want to embark on that road again.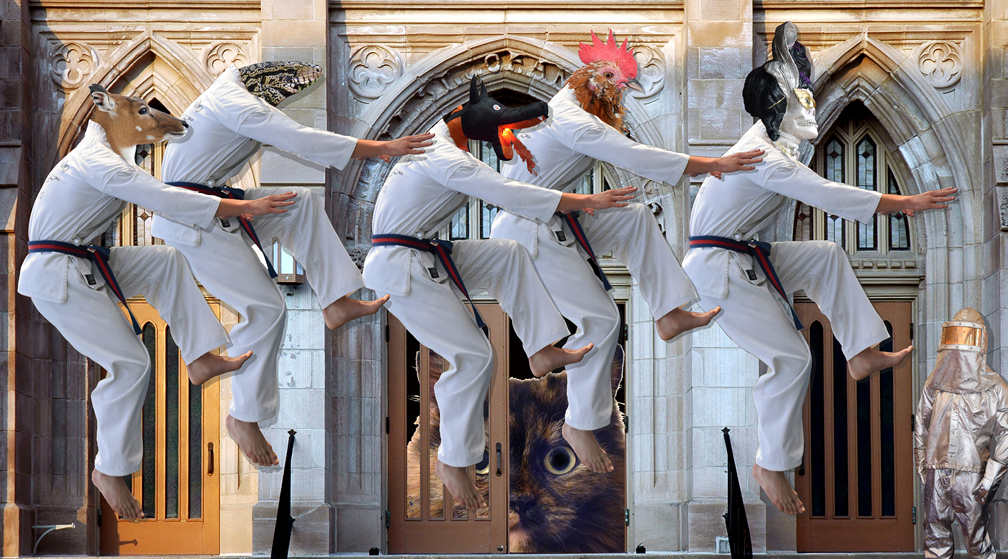 In the years that followed, the remaining tracks and narrative structure took form and a number of exceptional guests stopped by, including Mike Greenlees (who I'd been trying to get on an album since Fin), guitarist Todd Rittmann and the haunting voice of Carmen Armillas. Ironically, the one casualty of the entire concept was the opening instrumental track, which introduced a leitmotif used throughout the remainder of the album – though, somehow, I don't think we've heard the last of it!
After a nasty spell of bad health in 2018 (all better now, in fact, better than better) the project was soon revived and finally completed on 22 August of 2019 and was released in October. Just in time for the near collapse of society as we knew it!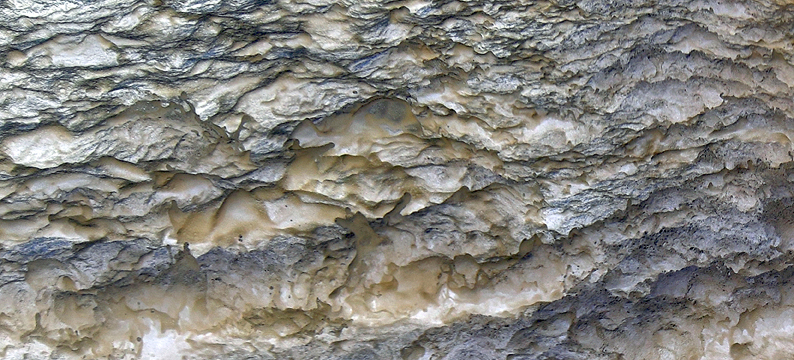 I'm not sure what you could say that's positive about these last few years – other than perhaps it did seem to generate a surge of artistic outreach among a community of musicians who suddenly found themselves trapped at home with a lot of free time on their hands. (At last – all this interconnectivity finally adds up to something!) In my case, it meant that Poiesis would suddenly move along at a breakneck speed (for me, anyway) without all the usual fits and starts of the previous three projects. That, combined with this round being a set of fairly straight forward compositions that would not have to conform to a predesignated concept, the album was complete in a little under two years. While showcasing the usual suspects – Doug, Jim and Scot, it also features the return of Jef Bek in a larger role, and even a reprise of both Dan Burke and Laura Boton. It is also the first Pox release without the participation of Thymme – and only two drummers (I didn't know such a thing was possible.). As I write this, I am in the process of mixing the final two songs (figuratively and literally) and hope to release it upon the world shortly… I look forward to you hearing it!
And I can hardly wait to get started on the next one…