PART III: BLUE SKY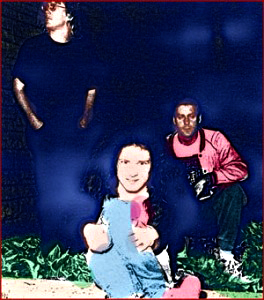 Throughout the mid-eighties, both Thymme and I had been playing and recording with guitarist Jeff Libersher outside of Dot Dot Dot.  Many of these recordings would find their way onto our individual cassette releases on the newly minted Complacency label.  Two of these collaborations, "Whitewash" (from my own "Angst For The Memories") and "Muffy Needs A New Pair Of Rose-Colored Glasses" (from Thymme's Cheer-Accident release, "Life Isn't Like That") would both end up re-recorded on Cheer-Accident's "dumb ask" while "A Day In The Sun" narrowly missed inclusion on Sever Roots, Tree Dies – what was to be our first release.  By the time Jeff had semi-officially joined the last gasp of Dot Dot Dot – and Jef Bek ("one f, no c") had departed – the three of us were left with what wasn't a totally unfamiliar dynamic and a lot of new powerful material.  All we needed was a name.
Probably an entire website could be devoted to exactly how we chose the name – and the inherent complications implied – but the short version is we all agreed we liked the name, and that we mostly hated all the "new" ones we came up with ("Siberia" and "Jim Drummond" to name a few! Thankfully, LBJ was never considered…). Even though there was a tenuous link to the original band – it was casually agreed that Thymme would continue to use the name for his own solo-produced cassette releases, while the newly-formed trio would play live and release albums. Thus, the new Cheer-Accident would 'debut' (paired with the perennial Illusion Of Safety) on July 17, 1987 at Igloo in Chicago. At this point, the set was entirely instrumental.
We had flirted with the idea of seeking out a vocalist – as well as the unusual concept of splitting specific shows between vocal-based and wholly instrumental – but in the end it seemed obvious that Thymme would handle the bulk of the vocals with myself and Jeff bringing up the rear. And other than the odd "Filet Of Nod" marathon, the instrumental shows never really materialized. Before long, many of the previously instrumental bits and pieces we had been playing live were expanded, rearranged and given vocal treatments creating a body of work that would ultimately comprise the first album. The title, "Sever Roots, Tree Dies", had come to Thymme in a dream, and as we compiled a running order and a pretty comprehensive demo, a vague concept of alienation began to take shape. As for the actual recording, there was little question as to who would do it. Steve Jacula. But as fate would have it, Steve was either unable or unwilling to take on such a large project and instead recommended his fellow engineer Phil Bonnet for the job.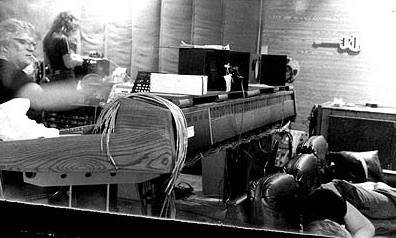 The recording would end up taking dozens of sessions over a four-month period – mostly in the dead of night and often well into the morning light of the next day. As the project progressed, Phil became invaluable in many ways – from procuring a mellotron that had recently been used on a Tom Waits session – to his rather loose billing practices that would allow us to continue well beyond our means. This enabled us to layer countless overdubs, sound effects and assorted drop-ins throughout the album that would add a further sense of cohesiveness from track to track. Eventually though, we did run out of time, tracks and momentum – and finally sent the album out to be pressed in 1988.
While it was thrilling to at last have a full-length album under out belt, we had our reservations that perhaps the sound could have been harsher – that something was being lost between the initial backing tracks and the final mix. (I personally wasn't fond of the basketball-like snare sound and felt the bass and mellotron was largely under-mixed.) During the recording we had joked that perhaps the next one should be recorded by Steve Albini (thereby initiating a lengthy series of things that Phil would be insecure about), but it wasn't until the following year that this would in fact became a reality. Mike Greenlees, who had been part of the original Cheer-Accident, was now playing in Tar and recording semi-regularly with Steve. So, with a couple of phone calls, the deed was done.
dumb Ask would end being the opposite of Sever Roots in almost every way. Recorded and mixed in only a couple of days, the album would be far edgier and much closer to our live sound than Sever had been. There were few overdubs and only one brief tape drop-in at the beginning of "Muffy" – a surreptitious recording of a couple of Scottish painters discussing the heyday of British swing. The album would also feature a reasonably compact version of the potentially infinite "Filet Of Nod", clocking in at just over 8 minutes. Still, this was apparently a bit too long for Neat Records, who had somewhat improbably signed us to a two-album contract. They reneged on the second, and released dumb ask in the UK loaded with typos and a severely truncated version of "Filet" that barely cracked 3 minutes. Fortunately, our own domestic release remained true to concept.
Around this time I had also been asked to join Fifteen Minutes, a band that Phil had
co-founded with acoustic guitarist and vocalist Richard Bolling. They had recently lost both their drummer and bassist. Brad Schlueter had taken up the drum throne and recommended me. I was happy to fill the gap. The band featured discordant, yet radio-friendly pop vaguely in the style of the edgier side of The Smiths. What made the band unique was the sonic assault of the electric guitar, provided by Phil, that more often than not sounded more like a keyboard or string section. This was before the days of amp modeling and readily accessible sampled guitar patches. What Phil was doing was manipulating his sound through a few basic pedals and effects – mostly reverb – and it sounded amazing. He was also using a variety of alternate tunings – something Jeff and I had been using since the final phase of Dot Dot Dot. Ironically, it was Keith Richards who had been at least partially responsible for both our excursions into this territory. Phil had lifted one of his favorite tunings (featured on "I Wish I Was John") off of the Stone's "Start Me Up" – while I had picked up some basic blues tunings years earlier from a book I had found at the library on delta blues, co-authored by Mr. Richards. In addition, I had also utilized and adapted a number of modal tunings popularized by Jimmy Page and a smattering of English folk artists.
As if playing with Fifteen Minutes wasn't enough, since 1986 I had also been recording with and occasionally playing out live with Jane Bouzek as Girl Thirteen (later known as Asa Nisi). Our first cassette release "I Wanted To Be Going Somewhere" had even garnered some interest from Carlos Peron of Yello fame. All we had to do was travel (at our own expense) to Switzerland to talk things out. Ah, what might have been! As a side note, for our 1988 live performances at both Limelight and on the popular local cable accesses show "The Friday Club", we recruited Jeff and Thymme to fill out our live sound. (A snippet of "Heaven" can be heard at the end of the show as the credits rolled.)
As we moved into the 90's, it became pretty obvious that the power trio format had pretty much played itself out. Both Thymme and I were developing pieces that required multiple and often quite divergent parts, and at that point we didn't really want to be strictly a "studio band". We needed an additional member and Phil was both the obvious – and most unlikely choice. Obvious for his amazing guitar textures – unlikely for his almost crippling lack of self-confidence. Eventually we talked him into it, giving him increasingly more difficult parts as we went along. It was also with Phil that we played our first out of state gigs hitting Memphis, Tennessee and Mobile, Alabama in March of '91.
For the next album, we decided once again to enlist the engineering services of Mr. Albini – though this time we would go for a less sparse approach than dumb ask. We would give ourselves an extra day of recording and a full day to mix. While the music was becoming increasing more dissonant, so were the band dynamics. By this time, Thymme and I had been playing together for nearly a decade and we each had strong, though not entirely harmonious ideas for the direction of the band. The recording of Babies Shouldn't Smoke was at times becoming a battle of wills, and although the material is quite strong – and a favorite among many fans – the end result may have fallen a bit short of what we envisioned. Recorded during a very hot July, the three-day session was ultimately a bit less than optimal and about a third of the album ended up being remixed a few months later in an attempt to make up for some of the deficiencies. (It was during this remix that the infamous "Yo!" came into being – much to my disdain. In addition, the track, "Playschool" had been recorded earlier at Solid with Phil engineering, in what was for me the album's most contentious session.) Still Babies broke new ground and marks the first appearance of band lyricist Scott Rutledge on "When Clowns Go Bad" along with additional lyrical contributions from Cheer veterans Jim Drummond and Jim Banks. The album also features a standout vocal appearance by Jane Bouzek and the incredible cover art of Chicago artist Linda Wiley.
Once completed, we resumed touring, shot a video for "Small World" and began assembling material for the fourth album. By now, collaboration between Thymme and I had virtually ceased as we laid down a half dozen new songs at Solid including "How Do You Like Your Eggs", "Propaganda", "Sub Herbs", and "Dismantling The Berlin Waltz". At the same time, we were also rehearsing a much longer set of pop songs largely penned by Thymme and Phil that I was informed would make up the bulk of our next album. To me – combined with the fact that I wasn't terribly interested in doing a pop album at that time – I felt some of the material was a bit anemic and overall seemed more like a 'cassette' Cheer than a full blown band project – nor was I shy about voicing my reservations. By now, I was also playing in Jef Bek's live band, and had been working (ironically) in a proposed pop project with Brad, Scot and Doug on the side. Eventually, as projects and live dates collided, Thymme decided I wasn't devoting enough time or enthusiasm to Cheer and I was asked to leave. The split was less than amicable, as Dan Forden stepped in to complete the album, which was now called The Why Album. My parts where wiped, songs abandoned and Cheer was at last one under the undisputed direction of Thymme and Jeff. And as the other projects dissipated one by one, I was suddenly left without a band…
It was time to forge ahead…