PART II: WHAT NOT TO SAY
Something odd was happening in the Northwest Suburbs…
As the decade turned, I was still exploring rock-based, heavy improvisation in the heart of Palatine with Brad and Scot in No Apology. Unbeknownst to us, a dozen houses down, Thymme Jones was involved in his own non-commercial sound adventures along with fellow conspirators Jim Drummond, Mike Greenlees and Kevin Njaastad in what was to soon become the very first collective known as Cheer-Accident.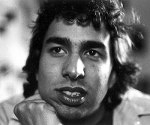 Fifteen miles to the east, Jef Bek was orchestrating his own semi-improvisatory happenings in a loose conglomeration sporadically known as the Da Plain Ensemble, which featured multi-instrumentalist Brian Imig among others. At the same time, he was also piecing together a prog-rock fusion band with guitarist Mark Steurtz. All they needed was a bassist.
When I answered their ad in the Illinois Entertainer (which had deceptively claimed they also had a keyboardist) – and drove out on a very cold night in January of 1982 – I had little indication of how much this one audition would change my life in nearly every way.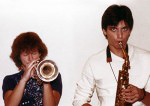 Obviously, as the resulting trio was called, played proggy cover tunes with a healthy dose of improvisation mixed in between. Soon others stopped by to participate, including Jef's friend Ross Feller – who played a variety of saxes and reeds – and not long after, a trumpet and synth player that Ross had met at NIU – Thymme Jones.
As promising as this line-up should have been right from the start, Obviously lacked an overall direction and soon fell by the wayside. I returned to an uncertain future back home as Jef brought Ross and Thymme into the Ensemble – and who along with Brian and bassist Terry Killips, were now somewhat capriciously re-christened Dot Dot Dot during a rehearsal in Lombard.

On 23 July, 1982, Dot Dot Dot played their first and only gig as a quintet at Chicago Filmmakers. The music that night was heavy on improvisation and debuted a number of Dot standards including "Pie Invalid", "Barbarous Day" and the rhythmically infectious "Jetta". Something clicked. And even though Brian and Terry departed soon after, the remaining trio decided to carry on, and asked if I would be interested in filling in. The first quartet was now complete.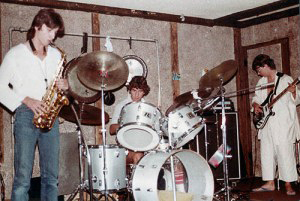 Combining our varied influences from the worlds of rock, jazz and the avant garde, we performed throughout Chicagoland in the early 80's making multiple appearances at the prestigious New Music Chicago Spring Festivals, Chicago Filmmakers and at the American Conservatory Of Music. While improvisation remained a strong element of the live show, many new structured pieces were also added including "Crumbs", "Altruistic Ball Front" and the hooky Terry Riley-ish "Black Zoo". We had also added one of Thymme's Cheer-Accident compositions, the deceptively simple "Fluffy The Ostrich And Lily The Emu", which could be – and often was – played ad infinitum. Oddly enough, this soon became a live favorite in Dot Dot Dot and beyond, and was a conceptual predecessor to C-A's "Filet Of Nod".
Along the way, we also teamed up with Schaumburg-based sound designer and noise-impresario Dan Burke and preformed our first and only fully dedicated gig as Illusion Of Safety at the Cubby Bear. Decades later and with countless releases, Dan and/as IOS are still a legendary force in the Chicago and international underground, industrial noise and ambient scene.
Dot Dot Dot continued to perform throughout 1983 and after some initial studio
recordings – some with IOS along with local poet Chris Stanley – the band entered its next phase as Ross left to pursue an academic career. Ross was replaced by Scot Ashley and the second quartet was born.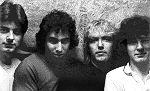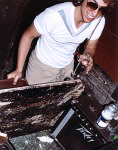 By the time Ross left, we were already slated to record Thymme's "And Then You Realize You haven't Left Yet", and my own "Was War Morgen". Scot quickly transposed the sax parts to guitar and we headed off to Evanston to an oddly partitioned mansion to record our first single with engineer John Adair. (Both singles would feature unusual artwork created by Vertigo Polka – who would reappear decades later to design several of Cheer-Accident's albums.)
More shows followed. During one particularly memorable string of shows at Crosscurrents, we had the unique opportunity to work alongside a Second City workshop being led by the legendary Del Close. Del, who had an endless supply of harrowing personal recollections that would leave Hunter S. Thompson aghast, described Dot Dot Dot as a "sonic lobotomy". You can't buy praise like that! (It was also at one of these shows that I met a talented young vocalist named Jane Bouzek, who would join me later in Asa Nisi.)
For our next single, Scot took center stage with a reworking of his own "Just" (which we had played previously in No Apology), along with Jef's brooding atmospheric, yet funky "Not To Say" – a rare Dot Dot Dot piece to feature lead vocals. At the time, Scot had also been playing in a techno-pop band named Poet, which was fronted by Steve Mullen and headquartered out of the infamous Plank Road Studio in Naperville.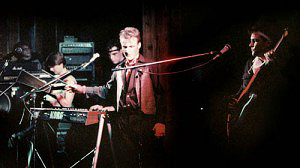 Infamous if you ever attended a "gathering" there – extra points if you can remember it. Poet's bassist and then in-house producer/engineer was the perpetually caffeinated Steve Jacula – a man who eschewed sleep and always kept a freezer-chilled bottle of vodka at the ready. On the sidelines, a quiet, stocky, blonde-haired man named Phil handled the band's live sound – but more on him later. Scot recommended Steve for the job – so in late 1984 we entered Solid Sound Studio for the first time (and the last time as Dot Dot Dot) with Steve at the board. The results were nothing short of spectacular and remained a personal triumph for Steve until his dying day. A few years later, he would be our first choice for the debut Cheer album – but it was not to be.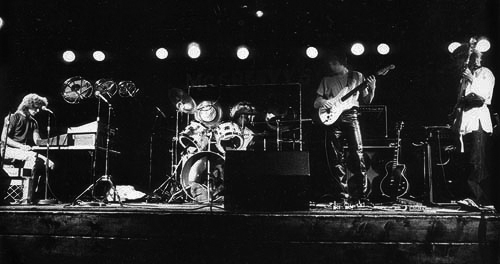 Again, a great deal of new material was forthcoming, including the fusiony "Diet Of Worms" (which also had its origins in No Apology), Jef's odd little keyboard based
piece, "not 3" and the cacophonous "Grown Men". But the band dynamic was
becoming strained as compositional and personal regimens began to clash. We briefly added a violinist, Janine Newfield, with only lukewarm results. In the end, we played our last show at Joz (the 'upstairs' at Metro) to a packed house. We had finally made it! And we were finished. Shortly after, Scot departed for the British Isles to ultimately record with Sting producer Pete Smith for an (as of yet) unreleased album project that featured members of Reflex as well as King Crimson's Mel Collins.
Yet, the band wasn't entirely dead. In a final burst of creativity, the three of us,
along with guitarist Jeff Libersher (still another acquaintance from NIU) got together in late 1986 to give it one more shot. But the new material was very different from what we had been playing – now generally comprised of big dissonant guitar riffs, distorted bass and even opposing dual drum parts from both Thymme and Jef. Any trace of jazz was now a distant memory. And as Jef's participation became increasingly sporadic, Thymme, Jeff and I forged ahead.
We were definitely on to something – and it wasn't Dot Dot Dot…
Dot Dot Dot was:
Jef BEK – drums, percussion, vocals, keyboards & acoustic guitar (1982-86), ross FELLER – saxes & woodwinds, vocals (1982-83), brian IMIG – guitar, keyboards & percussion (1982), thymme JONES – keyboards, trumpet, drums & percussion (1982-86), terry KILLIPS – bass (1982), chris BLOCK – bass, acoustic guitar, vocals gizmotron & pedals (1982-86), scot ASHLEY – guitars (1984-85), janine NEWFIELD – violin (1985), jeff LIBERSHER – guitar (1986)